Larry Hinson III (fictional)
is the main antagonist from
Reptile
played by Larry Hinson III himself. He is the twin brother of
Reptile
who was separated at birth as Larry's mother refused to nurse Reptile due to his "deformity." He was the founder of Shih Oh Network. He was also the former leader of the Violent Ducks under the name Rickey Kaleb.
Personality
Larry is a more calm than Reptile despite being the villain. He is often depicted of having a calm and nerdy personality. He always looked after Reptile and kept him safe from any danger up until he become vengeful towards Reptile because of Reptile's popularity and gaining more attention than Larry.
As Rickey Kaleb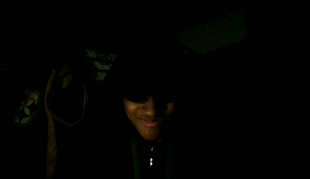 At the end of the movie, it is revealed that Larry is the leader of the Violent Ducks. He become the leader of the Violent Ducks in 2014 after the previous leader died two years ago while in prison for hacking 100 celebrity cell phones in one day. He joined the Violent Ducks because he wanted to take Shih Oh Network for himself so he can steal Reptile's popularity.
Death
At the end of the movie, Reptile confronts Rickey Kaleb who then reveals himself as Larry the whole time. Larry shot Reptile in the shoulder before telling him how Shih Oh Network was meant for himself and not Reptile. Reptile then delivered the killing blow to Larry in which Larry was shot in the neck and died instantly. He was 17 years old.